School Experience Programme
Getting some classroom experience can help you to decide whether teaching is right for you. It can also strengthen your application and help prepare you for potential interviews.
During your placement at Soar Valley you will have the opportunity to:
talk to teachers about day-to-day school life

observe teaching and pastoral work

watch a range of lessons in specific subjects

find out about the wider aspects of the profession

find out about routes into teaching
All of this will give you valuable insight into life as a teacher and provide a useful reference point for your application and interviews.
Each participant will be required to pay £60 for DBS check six weeks in advance of the placement date in order to secure the school experience. This will be organised by the school. The placement will be for five days – Monday – Friday.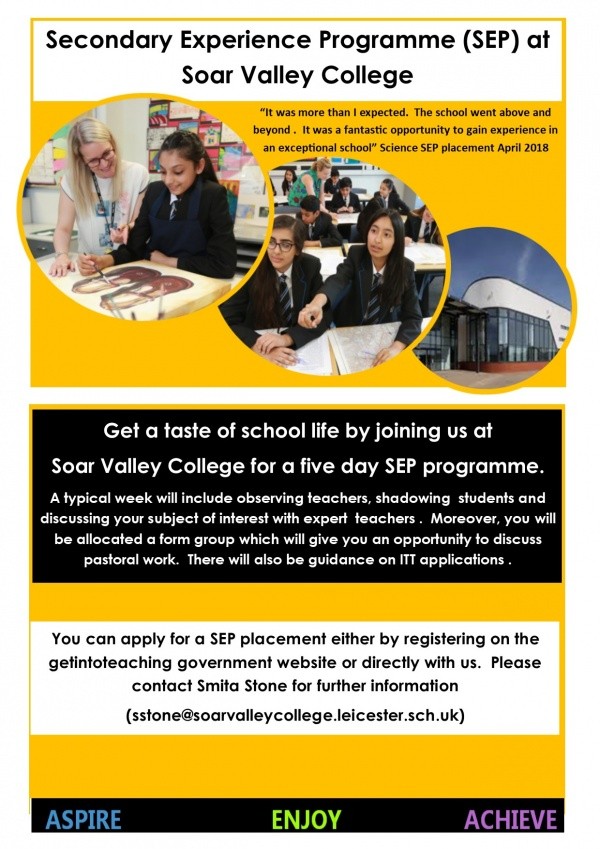 Testimonials from previous participants:
'It was more than I expected. The school goes above and beyond for anything they do. It was a fantastic opportunity to gain experience in an exceptional school. This experience was an eye opener but also increased my ambition to become a teacher. Best part of the week was to see how bright the students are regardless of their ability, in addition to seeing how the teachers work well with one another and with their students'.
'It was more than I expected. A very valuable program of observations had been compiled, allowing for a variety of teachers and age groups to be viewed. I have enjoyed spending time working with the children in the classes and form group and hope I have left something with those children I have spoken with'.
'The experience was far better than expected, everything has been so good with the way everything was planned. The student shadowing was an experience, there was nothing that was not to my liking. The department were excellent and the form tutor allowed me to take a form class which was very good. Everything was perfect'.
'This week was more involved than I expected giving a deeper insight into teaching and school life. A great week which has reinforced my wish to teach'.
Click here to find out further information about Initial Teacher Training


How to take part
Please click on the link here, which will take you to the Department for Education website where you can register your interest.
If you would like further information, please contact Mrs Stone by calling the school or emailing sstone@soarvalley.aspirelp.uk