Reflections on Her Majesty
9 Sep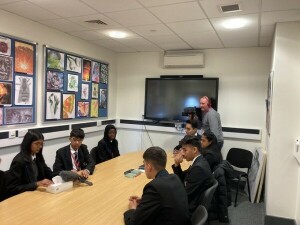 Soar Valley College was honoured to be asked by the BBC News to share our thoughts on the sad passing of Her Majesty Queen Elizabeth II. 
Interviewed by Navtej Johal from BBC East Midlands about their memories of the Queen, as well as their thoughts on the future of the monarchy, our students gave thoughtful and mature answers. They showed what insightful and articulate young people they are and we were very proud of them.
If you saw the BBC News at 10 on 9th September then you will have seen them in action. As we thought that the recording was for the local news it was a real pleasure to see them on the national news sharing their views with the nation at this historic time. A story to tell their grandchildren we think!